That is now qualifying over for today and what a qualifying it was! This circuit is something else and it shows with how close the cars get to the walls!
It is a 1-2 for the Mercedes boys in Saudi Arabia, get in there boys!!! Lewis Hamilton takes pole position, with his team-mate next to him in second. Max Verstappen joins the pair in third position.
The rest of the top 10 are: P4: Leclerc, P5: Perez, P6: Gasly, P7: Norris, P8: Tsunoda, P9: Ocon and P10: Giovinazzi.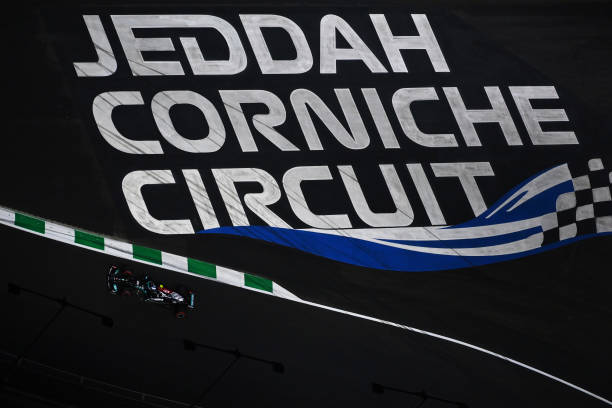 Well lets start with the final lap from MV, he was doing an outstanding lap but he was very much pushing the limits and there was a couple of close calls with the wall during the lap until he got to the final corner… where he did indeed touch the wall quite harshly which ruined his chance of pole position. There could be a potential gearbox change which he already had a new one in this weekend but another new one means a penalty… So we will await and see if there is significant damage to his car.
It really is not Aston Martin's weekend, they have been somewhat off there normal pace and that showed even more so during qualifying when both of the cars qualified 17th and 18th.
Yuki Tsunoda must really like new circuits, last time out in Qatar he qualified P8, and today it was again P8, either that or he is very happy with the car and puts it all together in qualifying for a good lap! His team-mate Pierre Gasly a good qualifying for him too, possibly a good race for both Alpha Tauri drivers tomorrow and score a good set amount of points?
Now Carlos Sainz… What didn't happen with him in Q2! He had a big moment on his first flying lap which saw his rear wing touch the wall, so he dived straight into the pits afterwards so his team could assess the amount of damage. Then on his second flying lap he went wide which again ruined his lap… Hence him qualifying P15, this could have a big impact on the Constructors now.
Predictions-
I am going to say Hamilton for the win, with Bottas in P2, the final podium place going to Perez, P4: Leclerc, and P5: Verstappen. With fastest lap going to Bottas.
Hopefully we get a McLaren up there in the points, Norris seems to be enjoying this circuit quite a bit and he will more than likely be wanting to redeem himself after the awful triple header for him and the team.
Times for tomorrow-
Sunday 5th- Race: 17:30pm (GMT), 18:30pm (CET).