Lewis Hamilton WINS the Sao Paulo Grand Prix and to take his 101 win! To think he started in P20 in the sprint race to finish 5th and then have a five place grid penalty to start 10th in todays race and go on to win, it for sure shows this championship is far from over and with only 3 races left now!
Max Verstappen finishes in second place not giving up just yet, but its a good day for Mercedes as Valtteri Bottas finishes in 3rd place on the podium!
The full top 10 are- P1: Hamilton, P2: Verstappen, P3: Bottas, P4: Perez, P5: Leclerc, P6: Sainz, P7: Gasly, P8: Ocon, P9: Alonso, P10: Norris. Perez took the fastest lap point away from Lewis and Mercedes on the last lap.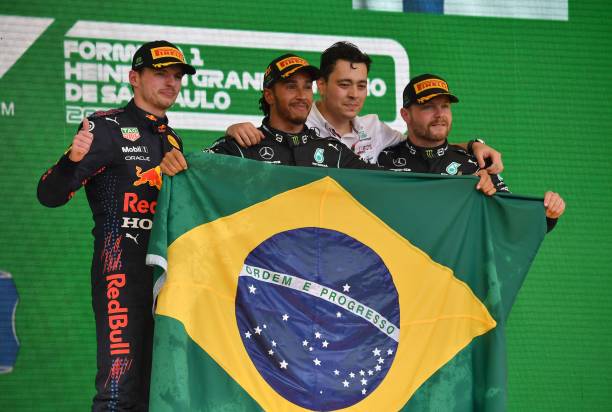 To start, what a race we had! We are so lucky to be witnessing such a close and exciting season, not just between Mercedes and Red Bull but also between the other teams on the track.
First up, gutting day for McLaren in general, Lando had contact with Sainz on lap 1 which saw him drop all the way down to P20 as he had a puncture, he managed to scrape his way to 10th and finish there, as for Daniel he was having a good race until a PU problem which saw him having to retire… This is the second race in a row where McLaren have scored 1 point, can next week bring them something new?
Ferrari then have had another strong weekend, both drivers finishing in top 10, looking more and more likely if they keep going this way they will have no problem securing P3 in the constructors!
There was a collision between Tsunoda and Stroll which brought out a Safety Car, and also saw Tsunoda given a 10 second time penalty… Not a good weekend for him, hopefully next week will be a different story.
The Championship-
Now looking at the drivers standings, there is now only an 14 point gap between Max and Lewis… with 3 races to go, who will come out on top? Looking a little further down, Leclerc who is currently sitting in P6 is only 3 points away from P5 which Lando is currently sat at, these two brilliant drivers will want to give it everything now.
Looking at the constructors, Mercedes now have an 11 point lead over Red Bull, both teams with two talented drivers its going to be a close one for sure! Ferrari have a hefty gap now in P3 making it 31.5 points between them and McLaren, the british based team will be needing something special to happen in the next 3 races if Ferrari carry on like this… Alpine and Alpha Tauri are sat on the same points 112, with Alpine ahead in 5th this is going to be a tight battle!
Onto the next! We are racing at a completely new circuit next week to finish of our triple header and we are in Qatar for its first ever F1 World Championship race!